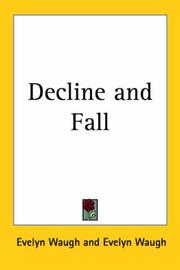 Paul Pennyfeather is sent down from Oxford after a terrible scandal and takes up teaching in an obscure public school in Wales where he becomes attracted to the delectable Margot Beste-Chetwynde but falls down over some of her shady dealings.
I'm really not sure what to make of this book, to be honest. I certainly enjoyed the first part, detailing Paul's time in Llanabba school and the weird and wonderful characters he meets there. The second part, the romance, is somewhat more conventional but things pick up again in the third part after the inevitable disaster. The first part ends on a somewhat jarring note that didn't seem to fit in with the rest of it, but this is dealt with later. I didn't feel that the middle third lived up to the expectations created in the first, with the wonderful, almost grotesque, characters that Waugh had created feeling somewhat wasted.
The tone felt almost Wodehousian, but in a more passive sense, without Wodehouse's active absurdism. I felt indignant on Paul's behalf at times, as he suffers the slings and arrows of outrageous fortune but he just glides through everything and although the book is entitled Deline and Fall the end of the book isn't quite so bleak as that title would imply.
I suspect this probably needs re-reading to get the most out of it.