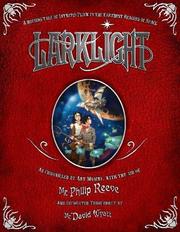 This is a fairly slight young adult steampunk novel, set sometime in the mid 19th century, about two youngsters who live in a ramshackle old house called Larklight, and what happens when a Mr Webster comes to visit. The thing is, Larklight is in orbit somewhere beyond the moon and this is a world where Isaac Newton's theories led to engines that could sail the solar system.
This is a living solar system where every planet and most moons are inhabited by aliens and are inhabitable by humans with no need for clunky spacesuits and there is an ecology in space. It's a very readable throwback to the 19th/early 20th century vision of what the solar system was like, with the origin of the solar system, space pirates and giant spiders thrown in for good measure.
Written in a pseudo-Victorian style, as told by young Art Mumby, with extracts from his sister's diary, to whom these adventures happen, it's a very enjoyable, if fairly short, read, with some lovely illustrations by David Wyatt.