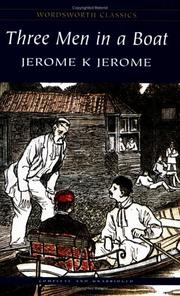 Three young men are ruminating together on their various imagined illnesses and how much they need a holiday. Together with the dog, Montmorency, they hire a boat and travel up the Thames from London to Oxford and hilarity, as they say, ensues.
I found this to be a delightful book, very easy to read, picturesque and hardly dated in the language and humour. While I was reading it, I found it quite striking how it intersperses the comic antics of the protagonists with beautiful descriptions of the surrounding scenery and sometimes even some quite serious observations on life. This sounds like it should jar, but it mostly doesn't and works together remarkably well.
The narrative about boating sounded quite delightful and makes me want to gather up some fellows and spend a month sitting on the river myself!
My edition also contained the sequel, which I'll review here as well:
Three Men on the Bummel, by Jerome K. Jerome
This is the sequel to Three Men in a Boat and follows the same three protagonists (older and maybe wiser), sans dog, going for a bicycling trip around the Black Forest region of Germany.
I found this humorous enough, but not nearly as good as its predecessor. The humour seems somehow more forced, and the constant stereotyping of the German character soon gets wearing. But what I found myself missing the most, and I found this somewhat unexpected, was the Thames. I hadn't realised just how much of a character that the river had become in Three Men in a Boat and although Jerome tries his best with the German setting, it's just not the same.
Worth a read for curiosity value, but not as good as the original. (Three stars)