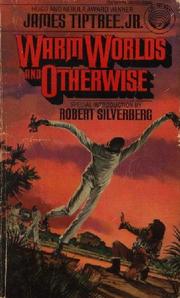 This is a collection of short stories by an author that Robert Silverberg in the introduction couldn't believe was female, claiming that there was "something ineluctably masculine about Tiptree's writing". It's easy to mock with hindsight, but although James Tiptree Jr is the pen name of Alice Sheldon and there was a degree of feminist tones to some stories here, most notably in The Women Men Don't See, I see little to suggest gender in these stories.
Of the collection, a few didn't do anything for me at all. The comic story All the Kinds of Yes about an alien who comes to Earth and ends up with a group of hippies was mildly amusing but no more. Amberjack just confused me and On the Last Afternoon was awfully bleak. But in here, we've got the aforementioned The Women Men Don't See, the wonderful Hugo-winning The Girl Who Was Plugged In, about a girl who ends up "driving" a beautiful meat-puppet into the world of the rich and famous. Love is the Plan the Plan is Death is a great piece of writing that gets us inside the heads of an alien and Fault is a nice little story about a man forced to experience time at a different rate to the rest of us.
There were definitely more hits than misses here and I'll definitely look out for more Tiptree.