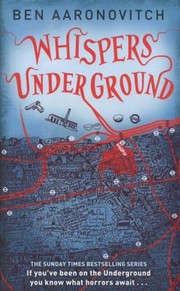 Ben Aaronovitch's 'Peter Grant' series continues with this story of death and magic in the London Underground. This time round, our favourite apprentice wizard has to deal with the deal of an American senator's son, as well as the over-enthusiastic FBI officer sent over to 'observe' the case. The book cover blurb makes a big play of Agent Reynolds' religious convictions and feelings towards magic, but this wasn't something that came up in the actual book. In fact, apart from a few requests to the British officers not to blaspheme, she seemed remarkably accepting of the whole thing. That may be an over-enthusiastic sub-editor at work, I suppose, but Agent Reynolds didn't seem to add a huge amount to the story in my opinion. There were quite enough characters to drive the plot forward as it was without her.
The ongoing arc plot with the Faceless Man is still bubbling away, with some new details being drip-fed in this book, and there's obviously still a lot of mileage in him. As there is with Peter's colleague Lesley, who is upgraded to fellow apprentice in this book, following the revelation at the end of the last one. Both Peter and Lesley continue to be engaging and likeable characters, with Peter's geek references continuing to flow freely, and his attempts at beginning a science of magic being both educational and entertaining. The supporting characters are all present and correct, from DCI Seawall and DI Stephanoplulos to the goddesses of the river Thames (although only a brief cameo from Lady Ty this time round).
The writing continues to be witty and light. The book is very quick and easy to read, light in tone but with deeper stuff going on underneath. London itself remains a major character in the book, something which is both endearing and somewhat wearing, for someone who is mostly unfamiliar with the city.