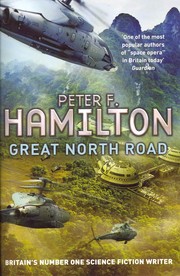 In a future where wormholes connect the trans-stellar worlds, a clone from the very rich and powerful North family is murdered in Newcastle, although none have been reported missing. What is the connection to the planet of St. Libra, practically the personal fiefdom of the Norths, and the possible miscarriage of justice that left a young woman in prison for killing a whole branch of the same family twenty years ago?
I have mixed feelings about this book. Firstly, it's too big, and could really have done with another pass by the editor. I mean, it's obvious that Hamilton has really done his research on police methods, but he really didn't have to put them all into the book.
There's a lot of the cool tech that I've come to appreciate from Hamilton, as well as strong, kick-ass women. I wonder how much of himself has gone into it as well, as the two most likeable characters are middle-aged men worried about protecting their families.
One of the things that kept taking me out of the book was the descriptions of what appears to be an ultra-capitalist Britain (England?) of the 22nd century, with policing being outsourced, medicine and access to law all requiring insurance and a European superstate that is faceless and bureaucratic. It's all a bit Tory wet-dream for my tastes and certainly not a Britain I would want to live in (although there's no mention of Scotland, I like to think it voted for independence and is a happy wee state in the Scandinavian model of social democracy).
The character of Angela was probably the strongest in the book, and the slow drip-feeding of her back story was the most interesting, as we go from being unsure whether she's telling the truth or just a very good liar, through discovering that she's both, and later finding out how she got into that situation in the first place.
Worth a read, but you may want to skim a lot of the detail, particularly of the police investigation.