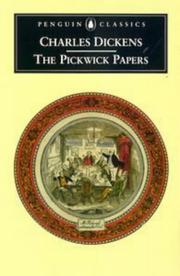 This book, Dickens' first novel, was a bit of a slow burner for me. The early part is an episodic travelogue in which the eponymous Mr Pickwick and some of his friends go travelling around the south of England, and the humorous adventures that they have along the way. Later the style seems to change a bit and, following the intervention of Dodgson and Fogg for Mrs Bardell, the pace picks up and I found myself reading more avidly.
The characters are probably the best part of the book for me, especially the irrepressible Sam Weller, Mr Pickwick's valet, who's always ready with a quick wit (especially of the 'as X said to Y' variety). Mr Jingle is a great literary invention as well, in his gentle sort of villainy, while Pickwick's followers are amusing but not really all that interesting.
I know I have a love-hate relationship with Dickens, but I do feel that this is one that I could reread, and maybe even grow to love.