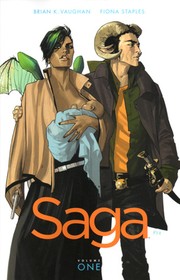 Two soldiers from a galaxy-spanning war meet, fall in love and have a child. This is their story, and that of the child as they struggle to survive, being hunted by all sides for just trying to live.
The story in this graphic novel doesn't hang around. It grabs you hard right from the opening panels. You sort of fall in love with these two people, and their obvious love for each other. The fact that one of them has wings and is from a technological civilisation, while the other has ram's horns and can do magic is neither here nor there.
The backstory is intriguing, some of the secondary characters grotesque and intriguing (what's with the Robot kingdom, for a start?) and I really like Izabel, the ghost child. The main plot is also really interesting and certainly makes me want to read more. Great cliffhanger too.