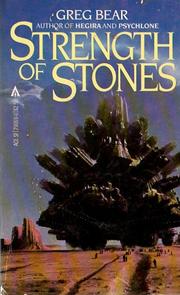 I found it difficult to engage with this book at all, I'm afraid. I loved the idea of mobile cities (long before Mortal Engines), who had kicked out their inhabitants, and yet yearned for citizens to fill their streets and be lived in. I found the characters not hugely engaging, but most of all I found the end unsatisfying.
With the final of the three linked novellas pulling together threads and characters from the previous stories, and the appearance of (a simulacrum of) the architect Robert Khan, who had created the cities, I felt like there would be change. Instead, we're left with stasis. Nothing changes at the end; entropy wins. The living cities all die, religious zealotry prevents the improvement of the lot of the people of God-Does-Battle, and the city part Jeshua is left completely alone on Earth.
I didn't entirely understand the whole thing with the multiple versions of Khan, but it seemed like his plan was to create matter transportation bridges to move the entire population (along with possibly the rest of the human race?) to a giant sphere, where they'll exist in energy form. Or something? But the fanatic Matthew decided that God had decreed that everyone had to stay where they were, so he destroyed two of the cities that were to take part. And what was up with Thule? I still don't understand that at all. Is the moral that gnosticism is bad…?
So some good ideas, but a muddy and disappointing (not to mention pretty bleak) ending.