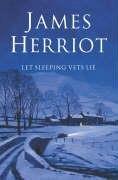 I'm not sure I can write anything about this third volume of James Herriot's (fictionalised) memoirs that is really that different from the first two. Herriot continues to be in love with the Yorkshire Dales, and with the beautiful Helen, although he seems incapable of wooing her in any sensible way. Somehow though, she sees past all that and decides that she likes him anyway.
Siegfried and Tristan both continue to be true to their established characters, although now that I'm ready for them, they become funny traits that I look forward to seeing. Herriot obviously puts a lot of love into the characterisation of the various folk that he comes into contact with over the course of his practice, both the loveable ones and the not-so-loveable.
This is mostly just very pleasant, light reading with nostalgic fondness for a hard time, long gone. Although in saying that, there are a couple of tear-jerking stories, and I tense up every time that Herriot has to go and visit a dog in the fear that something bad might happen to it.
I'm not really an animal person, and not a country person, but I do find myself enjoying these memoirs a lot.