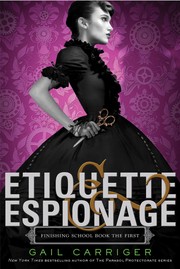 Sophronia Temminnick is too interested in climbing things (and people) and figuring out how things work for her mother, so she is packed away to Mademoiselle Geraldine's Finishing Academy for Young Ladies of Quality, much to Sophronia's disgust. But things are not as they seem, and as well as learning to flutter her eyelashes at eligible gentlemen and how to execute the perfect curtsey, there's also defence against vampires and werewolves, knife fighting, intelligence gathering, and more.
I found this book to be a whole lot of fun. It's pretty lightweight and bubblegummy but there's a lot to enjoy. I like Sophronia and her friends Dimity and Sidheag, and I liked that the older girl, Monique was demoted to the same level as the new entrants as punishment, something which also lets Carriger throw in some exposition about the world and the school in a fairly subtle manner.
Speaking of the school, I loved the idea behind it. It felt like some sort of steampunk Cloudbase or Helicarrier and felt both very steampunk and very decadent. Just the place that Mademoiselle Geraldine would have picked for her school.
Loads of fun, complete with the dirigibles that are de rigueur for steampunk and a very cute mechanical steam-powered pet dog. I'll definitely be continuing with the series.