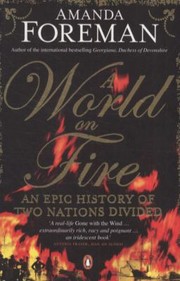 It usually takes me ages to read non-fiction books, but I raced through this one, and given that it's over 800 pages, that's not to be sniffed at. It's very well-written, and keeps you turning the page, with a well-structured narrative, and lots of interesting characters. Despite its prevalence in popular culture, the American civil war is not one that I know very much about. This book has its particular angle, regarding the British links and reasons for British neutrality, but it also does a good job in covering the major reasons for and battles of the war.
I did find myself struggling a bit towards the end, as the number of people increased. Keeping track of who was who and which side they were fighting on was much harder by then, but made easier thanks to a very comprehensive index.
The book covered the political and diplomatic aspects of the British involvement with the civil war quite well, with Lords Lyons (the British "Minister" to the American Legation [not embassy]), Russell (the foreign secretary) and Palmerston (the prime minister) on the British side and William Seward (the American Secretary of State) and Charles Francis Adams (Lyons' counterpart in London) on the American. It also covers individual stories well, following Britons who joined both sides of the war through their letters and other historical documents.
What I think it does less well is talk about the reasons that the average Briton joined or supported the different factions of the war. I was surprised by just how popular that the Southern cause was in Britain (Liverpool, in particular seems to have been a hotbed of sympathy for the South), given the general disgust with slavery, and I would have liked to have seen more on that.
Something else that I never really appreciated with the depth of enmity of America (both sides) to Britain in this period. It seems Seward in particular was happy to whip up the public against foreigners (particularly Britain) to bolster his political standing (plus ça change, eh?). This leads me to view the so-called "special relationship" between Britain and the US with more than usual cynicism.
This is a very readable, in-depth history of the American civil war, from the very particular perspective of the British links, but it's a page-turner, and with nearly 200 pages of endnotes if you want to go into more depth. A good overview of the war.