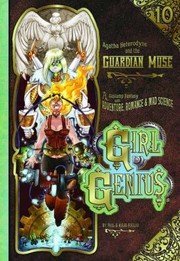 Volume 10 of the adventures of Agatha Heterodyne sees her trying to save the lives of herself and her potential beaus, Gil and Tarvek, from a deadly Spark disease, dealing with the deadly guardian of the pit and trying to stop her mother taking over her body (repeatedly) while fending off the Heterodyne imposter, Zola and trying to repair the castle to defend the town.
As with the other Girl Genius books, the art is beautiful, the story hectic and the laughs keep coming. I still read the webcomic regularly but there's nothing quite like sitting down with a book and being able to blitz through a whole story in one go, rather than trying to remember what's going on at the (somewhat glacial) pace of three pages a week.
This volume is somewhat lacking in Jaeger activity, although that is corrected in the excellent short story Maxim Buys a Hat, included at the back of this volume. Other supporting cast get a bit more to do: we see some romantic interests blossoming between some of the minions hangers-on and, in particular, we see some intriguing hints that Airman (Third Class) Higgs is much more than he seems.