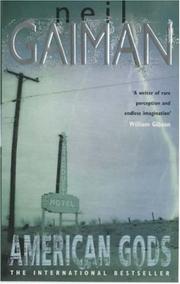 A few days before he's let out of jail, Shadow's wife Laura dies in a car crash. Numbly, he tries to return home and get on with his life, but he meets a stranger on the journey, who offers him a job. With nothing to stay for, he accepts, and begins a journey through the heart of America, and into the oncoming storm.
This is possibly the most 'Neil Gaiman-y' of Nail Gaiman's books. It's about mythology, belief, gods and monsters, what it means to be human, and more. Shadow is a sympathetic protagonist, although he can be passive at times. He accepts the world of mythology and gods he's been thrown into with barely a quizzical eyebrow, but he still has agency when it matters and his actions drive the plot forward.
The writing is very pleasurable to read as well. I've always been a fan of that, and while it's no Ray Bradbury in my book, I do enjoy the cadence of Gaiman's prose and his choice of words is evocative.
If you're new to Gaiman's work, this is probably a good place to start into his body of work. It's very typical of his work and rich enough that you'll know after you're finished it whether to read any more of his work, without needing the commitment of something like the Sandman series.