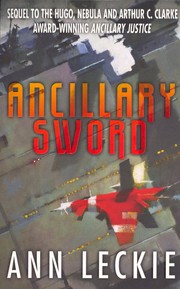 Breq is the last body remaining to an AI that used to be Justice of Toren, a starship with hundreds of 'ancillary' human bodies. All that was destroyed and Breq vowed to kill Anaander Mianaai, the Lord of the Radch, but has instead found herself made a Fleet Captain, put in command of the Mercy of Kalr and sent to secure a star system as part of an outbreak of civil war.
I loved this book as much as, or possibly more than, its predecessor, Ancillary Justice. That was, in essence, a fairly straightforward military space opera/revenge story. This book keeps the military flavour, but adds deeper political overtones, as Breq has to navigate local system politics, use but not abuse her new power and try and keep an eye on the greater civil war breaking out in the Empire.
One thing that I loved about this book was the fact that the heroine is working for the Emperor. It's clear that, like all empires, really terrible things have been done in forging it (not least the creation of ancillaries themselves) and Breq is seriously questioning it (something that she couldn't do as Justice of Toren) and growing as a person at the same time.
The supporting cast are mostly in shadow here. Seivarden returns from the previous book, but spends most of it on the Mercy of Kalr, away from the action. In her place is Lieutenant Tisarwat, a young officer foist upon Breq before the start of her mission.
The convention of being gender-blind continues here, with all characters referred to as 'she'. I like this because it forces you to confront your own prejudices; for example, in my head the magistrate and tea grower (both positions of power) were male. No reason for this, but they were, before I realised what I was doing. But the gender politics are very much in the background. This is a solid space opera, with a lot of depth to it, and I really look forward to the next (final?) book in the series.