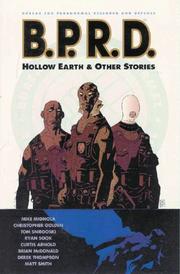 B.P.R.D. continues the story of the eponymous Bureau for Paranormal Research and Defence after Hellboy quits. The remaining 'special' agents, including old favourites Abe Sapien and Liz Sherman step up to the plate and although they don't have the magnetic personality of Hellboy, they can still carry the stories. There is one long story that introduces new boy Johann Kraus (a sort of disembodied spirit living in a containment suit) as Abe takes charge of a group that has to go and rescue Liz from horror in the centre of the Earth.
The other stories are more inconsequential, although the last one, Drums of the Dead, does linger in the mind a little, as Abe and another new guy have to deal with terror on an Atlantic shipping route.
I did find myself missing Hellboy and his quips and sarcasm. He had a really strong tone although Abe is fun, I don't know if can carry the title the way Big Red did. Still, this was a fun volume, read quickly, and totally worth the price I paid in the second hand store.