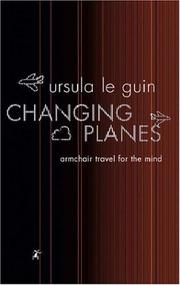 I thoroughly enjoyed this collection of short stories linked by the idea that you can travel other worlds (planes) through the boredom of a missed flight at an airport with "a mere kind of twist and a slipping bend, easier to do than to describe". The stories represent descriptions of these other worlds that the author has either visited (or, in some cases, descriptions from others who have visited). For the most part, they're gentle anthropological imaginings of different societies and different species. Although that's not to say that bad things don't happen. When you're talking about societies over time, that's inevitable.
Peoples discussed include the Islai whose experimentation with genetic manipulation had a terrible cost; the Asonu, who just stop talking as they grow up, and the travellers who come to follow them and analyse the few utterings they do make; and the Hegn, where almost everyone has royal connection, and the attention they pay to their few common families.
It's a great collection of stories, well thought out and written by someone with a strong anthropological background, which makes for some well told tales.