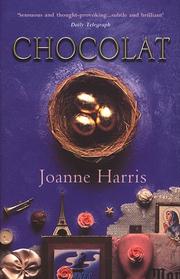 Within a few chapters of the start of this book a word came into my head to describe it: beguiling. It's a wonderful word (although one that I would never usually use) to describe a wonderful book. Harris' language is deft and incredibly evocative, and the descriptions of the chocolate are wonderfully rich.
The book feels timeless, only the odd mention of radio or laser surgery giving any indication of when it's set. The other thing that surprised me about Chocolat was its fantasy leanings. I believe that the film tones this down, but the book hints quite heavily that the protagonist, Vianne, has supernatural powers.
The antagonism between her and the parish priest, Father Reynaud, form the core of the novel, her fleeing from the Black Man in her past and he hiding a dark secret under his puritanism.
Sensual and beguiling, a wonderful book for anybody with a love of language and chocolate.