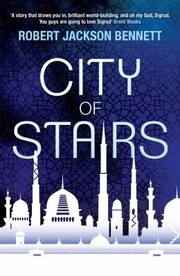 The Holy Lands of the Continent were protected by their Divinities; invincible, world-conquering, until one man rises up in the land of Saypur and kills the gods, ending the rule of the Continentals. Generations later, the consequences of this are still being played out, and when there's a murder in Bulikov, the former city of the Divinities, it sets off a chain of events that threaten the fragile equilibrium.
I loved this book. It's complex, with no black and white tale of oppressed and oppressors. The history of the Continent's long and bloody rule of Saypur is remembered as fiercely as the current Continentals see their own poverty and desolation. There's a spiral of hatred that feeds on itself, something that feels very real and is deftly portrayed by Bennett.
I got to thoroughly like Shara, our protagonist (not to mention Sigrud, her, er, secretary, who doesn't say much, but his actions speak volumes). Shara is quiet, small, very intelligent, with a passion for history. Something that comes in useful in a city that is practically nothing but history.
The worldbuilding is neatly done as well, with a drip-feed of information early on filling us in on the fact that the Continentals aren't allowed to talk about their dead gods and aren't allowed to know much about their own history. There's a chapter later on that fills in a lot of history about the gods and how they were killed, which on the one hand feels like an infodump, but it's filling in information for the other characters too, rather than an "As you know, Bob…" sort of thing, so I'll let the author away with it.
The Divinities loom large in this book, despite being (mostly) absent from it. The god of Order, Kolkan is particularly interesting, with his many edicts and hatred of any kind of pleasure. I'm not sure if it's intended as a criticism of the sterner sects of real-world religions, but that's certainly my reading of it.
A nice idea in the book is that now that the Divinities are dead, real world physics can assert itself. The world is moving out of a period where everyone (on the Continent, at least) lived through the miraculous intervention of the gods, and now they're developing motor cars, the telegraph and photography. It's not quite steampunk, but is definitely a society that's moving towards industrialisation.
A very interesting, complex book with a lot of ideas. And one that can be pretty much read standalone as well (although I certainly intend to look out the sequels). Definitely recommended.