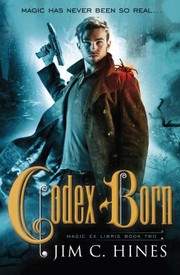 The second volume of the Magic Ex Libris series kicks off a few months after the first, with Isaac, Lena and Nedhi chasing after someone who murdered a wendigo. There's a girl who can use e-readers for libriomancy (something thought to be impossible) and someone who's after Lena and her own powers.
Like its predecessor, this is a fun book. Isaac is a very likeable protagonist, the love triangle between him, Lena and Nidhi is sensitively handled and you can't complain about lack of action. In fact, if I had one complaint, I'd say that at times you barely had time to breathe between big set-pieces where things were exploding, being captured, breaking free etc.
I wasn't really sure what to make of Janeta and her abilities. Being introduced in the opening chapter, she felt like a Chekov's Gun, but (given the epilogue) it seems that she's being held back for the next book.
I must confess that the ending, with Isaac having his magic taken away, blindsided me. I wasn't expecting that. Well, maybe not so early in the series. I thought maybe it might go a bit Earthsea, and he'd lose it in the final showdown in the final book, but this is intriguing. I assume that he'll get it back since otherwise, the next couple of books are going to be short!
An enjoyable and fairly short and easy read. I look forward to getting the next book in the series.