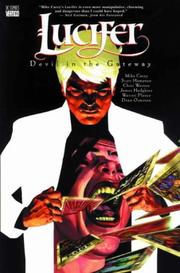 In the Sandman story "Season of Mists", Lucifer gives up the key to Hell and loses his wings to walk the world. This series now continues his story. This volume re-introduces us to Lucifer, owner of a nightclub in Los Angeles as an angel comes to him, asking for a job to be done, with any payment he wishes in return.
Lucifer is an intriguing anti-hero. He's arrogant and smug, but with good cause. You never really feel that he's in any danger as we follow him around, but that he's a source of danger to others, who are caught up in his plans.
It's those around him that suffer. We see that as the camera cuts to humans bound up in Lucifer's plans, and we see them in danger, and there's always the sense that the cover star might not coming riding to the rescue. This isn't a hero, he feels no compulsion to right wrongs, he'll only come to your aid if you have something he wants or if it's part of a longer term plan.
While the story didn't engross me entirely, the character of Lucifer did. There are hints of what he wants to do with his reward and I'm looking forward to seeing those develop.