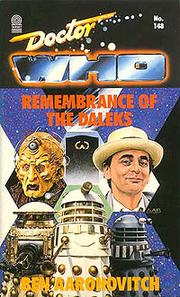 Remembrance is one of my favourite Doctor Who stories thanks, in no small part, to this novelisation, which I read many years before I ever saw the TV serial. It was on the strength of the memory of this book that many years later, I started reading Aaronovitch's Rivers of London books, which are thoroughly enjoyable reads.
This novelisation manages to add extra depth to the story that couldn't be conveyed on TV, and makes it feel more epic – especially the battle scene between the two Dalek factions. We also get flashbacks to Omega, Rassilon and The Other doing their work with the Hand of Omega back on Gallifrey, which makes it feel more epic. It also fleshes out Mike Smith and George Ratcliffe, and gives them back-stories tied to the War, and makes the Fascist connections that were implicit in the serial explicit. This is neatly compared to Ace, who grew up in the multicultural London of the 1980s.
Not exactly what I might have expected from a Doctor Who novelisation, but welcome nonetheless. A great novelisation of a cracking Doctor Who story.