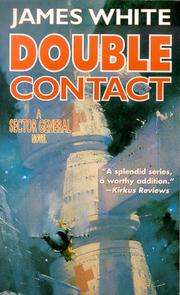 Without necessarily meaning to be, this is the last Sector General novel. White was ill when he was writing it, and its publication ended up being posthumous. This novel sees Senior Physician Prilicla and the crew of the Rhabwar answering multiple distress calls from the same location and finding a botched first contact operation. Prilicla and his comrades have to not just save their patients, but undo the damage that's been done.
Like the rest of the series, this is a peaceful, one might say pacifist, space opera (although there is a "misunderstanding" that leads to a siege at one point). White was passionate about non-violence and uses his characters to repeatedly make the point that peaceful contact and co-operation is best for everyone. There's a wonderful quote towards the end of the book:
"War, he thought sadly as he looked down at the terrified casualty, was composed mostly of hatred and heroism, both of them misplaced."
There's a nod back to Star Surgeon as Prilicla deliberately puts hostile patients in the same ward as other patients to show that they mean them no harm, and the constant correction of the "Etlan war" to the "Etlan police action" amused me.
And Prilicla finally gets promoted to Diagnostician! As the last act of the last book in the series, it feels really fitting. And the last sentence in the book hammers home White's philosophy one more time: "One does not give orders to a Sector General Diagnostician." – spoken by a senior marshal of the Monitor Corps, again making the point that the military (sorry, police) is subservient to the healers.
Sector General itself, alas, only gets a cameo at the start of the book. Goodbye you "shining beacon in space", you've been an inspiration to us all.