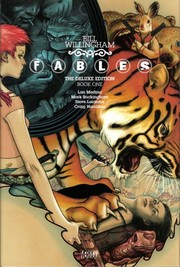 With the homelands invaded by The Adversary, the characters of myth, legend and, yes, fable, flee their worlds for ours, and establish a hidden colony in New York, where they preserve their culture, their society and their magic, hidden in plain sight amongst the normal people of the world. With a reformed Big Bad Wolf as their sheriff and Snow White as the deputy mayor, this first deluxe volume introduces us to these characters and their world.
This volume collects the first two story arcs, the first covering the disappearance, in violent circumstances, of Rose Red and the subsequent investigation; and the second covers the goings on at the place where all the Fables who can't pass as human live: the Farm, in up-state New York. There's a reason that arc is called Animal Farm. The nods to Orwell's story are all too plain.
We're only just getting to meet the main cast of Fables here, but I'm already intrigued. Snow White is hard and very capable as an administrator and politician; Prince Charming is feckless and mostly just seeks pleasure; the Wolf is possibly the most intriguing of the characters so far. Although we follow him throughout the first arc, we see little of his personality. He seems reformed from the Big Bad Wolf of yore but whether he truly seeks redemption or whether he's just being practical in the confined spaces of the Fables' community remains to be seen (and I look forward to having more of his personality teased out in future). One thing that does come across is that he has an awful lot of fun when he gets to do a real, honest-to-god parlour room scene.
The art is very pretty, and the covers of each issue, interspersed throughout are especially gorgeous, having a dreamlike quality that befits the subject matter. There's a lot to like about this volume and I look forward to reading more, finding out about the Fables, their lives and history and about the Adversary who drove them out of their own lands.