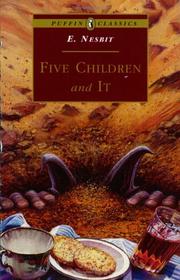 The eponymous five children find a sand-fairy in a gravel pit that promises to give them wishes that last until sunset. Hilarity ensues as the wishes, predictably, go horribly wrong.
I dunno, this book didn't do an awful lot for me. The children were too prim and "good", the narrator's voice was annoying and the episodic nature of the book (each chapter is about one wish) just didn't work. I enjoyed it when I was younger but the adult me can't ignore all the little things that bug me.
It did, though, make me slightly nostalgic for the days when kids could carry penknives as a matter of course and not be thought of as criminals waiting to happen.