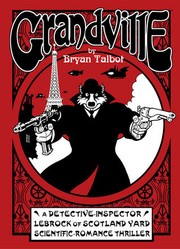 Detective Inspector LeBrock of Scotland Yard is investigating the death of a diplomat, a mystery that takes him to Paris, known as Grandville, the greatest city in the world, and what he finds could shake the French empire to the core.
I loved this steampunk alt-history with anthropomorphic animals. The basic back-story is that Britain lost the Napoleonic wars and became part of the French empire for 200 years. But about 20 years ago, following a campaign of guerilla warfare and civil disobedience, Britain gained its independence, but relations haven't been great since then.
LeBrock remains mostly a mystery throughout, albeit a fun one (for example, the bellboy lugging his bag up the stairs to his room looks on in horror as the DI casually opens it to lift out several dumbbells). His sidekick, the dapper rat Detective Roderick Ratzi is also great fun, and I'd love to find out more about these two characters.
The art is stunning, with strong lines and colours throughout. There's a stunning fight sequence that goes on for several pages at one point without a single word. It's a joy to behold. Don't let the art style deceive you though, the book can be awfully violent at times, but it never feels gratuitous or forced, but just a byproduct of the world that LeBrock inhabits.
So an excellent story, and I look forward to future adventures of DI LeBrock, not to mention the fallout from the events of this one, with great pleasure.