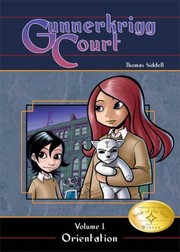 This beautiful hardback volume tells the story of young Antimony Carver's first year at her school, the eponymous Gunnerkrigg Court, collected from the marvellous webcomic. A strange place, blending magic with high technology, Antimony sets out making friends, building robots and meeting gods and spirits, some of whom try to kill her.
Any lingering comparisons with boy wizards going to school in magical castles are soon dissipated: Gunnerkrigg Court is far more interesting than Hogwarts. The first volume focusses very much on Annie and her best friend Kat, along with the spirit Reynardine. Their blossoming friendship is a lovely thing to watch developing, and the mystery surrounding the Court, Annie's parents and the forest on the other side of the chasm is built up slowly, with just enough answers being drip-fed to avoid too much frustration.
The art is beautiful, with a manga-esque twist to it, that emphasises the humour. The lines are bold and cartoony, and match the storytelling perfectly. The only thing that I could wish for is for Mr Siddell to work faster!