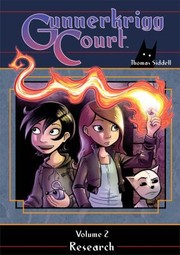 The second collected volume of Tom Siddell's marvellous webcomic follows Antimony Carver's second year at Gunnerkrigg Court, after a summer where her father failed to contact her. She and Kat soon fall back into their old ways, finding a robot shrine, sneaking out in the middle of the night to watch Science, meeting the denizens of Gillitie Forest and more.
We also learn more about Annie's history, her mother, and her powers, as Kat's mother starts to teach her to use her innate powers, and to start training to potentially take over her mother's former role as medium to the Forest.
The first volume could feel a bit bitty at times, but in this second one, the story is firmer, the art is improving under your eyes and the characters remain as true to themselves as they ever were.
We get to find out some of Reynardine's history (and he cemented himself in my heart from the moment that he chased off the bullies mocking Annie and Kat, early in this volume), more about the ghost at the bottom of the chasm, more insight into Zimmy and Gamma and much more. The first volume was entitled 'Orientation', which seemed right. Now we know the characters and Siddell is showing us more about them, and making us care for them.
Volumes three and four have already been ordered, and I await them impatiently. Even though I've already devoured the webcomic, I want to read them again. I find it frustrating even reading through webcomic archives: it took me a week or more to get to this stage in the archive, while I read the first two volumes on paper in an afternoon.