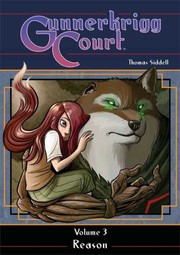 Volume three of Gunnerkrigg Court picks up the story of Antimony Carver and her friends at the eponymous school mid way through her second year through to the end of the year, culminating in a row and a blaze of revelations. The story of the Court, and of Annie, start to gather pace a bit and we learn more about Annie, seeing more into her character. Having read the webcomic and coming back to read the hard copy, I see things that I missed the first time, things that were set up early, in passing, and come back to be important later on.
Annie's best friend Kat continues to grow as well, with revelations regarding the beginning of the Court and its genius inventor hitting her hard. Seeing her dealing with this, and her growing importance to the robot community of the Court is lovely.
I continue to love the art, the story and the characters of this comic (Parley and Andrew in particular are really sweet). Reading the whole thing in graphic novel form condenses it and makes it even better. And I also continue to be impressed with the quality of the physical object. The hardback is physically solid, with high-quality, glossy paper that really makes the story come alive.
As always, highly recommended.