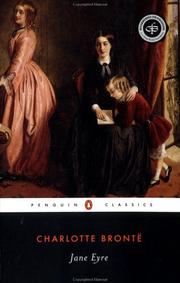 This is an old favourite and one that I come back to every few years. Jane is a character very dear to my heart, very different to Lizzie Bennett, yet I put them in the same place in my head. Jane may be poor, plain and friendless, but she is a strong character. Although she plays the part of subservient, demure governess, the relationship between her and Mr Rochester is anything but.
I always find the start and end of the book a bit difficult. The start because I empathise with Jane immensely, and her cry of "unjust" rings through my head as I follow her, first through the trials of Gateshead, from "master" John to the Red Room, then through Lowood school and the heartbreakingly good Helen Burns. The tail end, after she's left Thornwood, I find hard for a different reason: the character of St John Rivers. He's dizzyingly stern and uncompromising as a rod, but more than that, I find him intensely creepy. His domination of Jane is very different to her relationship with Rochester. It's not just the lack of love, but the fact that he knows what he's proposing will kill Jane quickly and it doesn't move him. This time round, I also realised that he's a windbag, as well as being sanctimonious. All praise to Brontë for an incredible character.
I love the various set pieces throughout the book, from the first meeting with Rochester on Hay Lane, through the bedroom fire, "portrait of a governess", the fortune teller, the wedding right through to "Pilot knows me" and, of course, "Reader, I married him." These are just the scenes that come to mind off the top of my head, there's very little of the book that I dislike at all. Even the opening and tail end sections I talk about above are marvellous to enjoy and I mention them specially only because of the intense emotions they invoke: the true sign of a master storyteller.
I've not mentioned Bertha Mason in this review. She's a problematic character to modern sentiments but fits the gothic and dramatic tone of the book. I believe various books have been written to tell her story and paint her more sympathetically, although I've not read any. I just ned to put my "product of its time" filter firmly in place (something I've had practice with, as a fan of Golden Age SF).
(Aside: I happened to be rereading this book when a touring theatre production of Jane Eyre came to my city. It was incredible: intense, modern, touching on all the highlights of the book, condensed into a stage play. If you have the chance, do go and see it.)