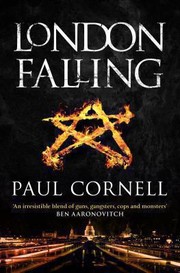 Detective Inspector James Quill is about to complete an undercover operation that's been running for several years when his chief suspect, Rob Toshack, is killed whilst in custody. His Superintendent then puts him in charge of a small team consisting of an intelligence analyst and two undercover detectives to try and find out what happened. As they do so, they find their eyes opened to a strange sideways London that sits alongside the one they knew. The team must work out their own differences, use their new Sight to solve Toshack's murder and nick the Witch of West Ham.
This book took a bit of time to get going. It wasn't really until Toshack's murder in custody and the events that follow that it really gets into gear. I liked Quill and the driven intelligence analyst Lisa Ross. The two other protagonists were more 'complex'. DS Costain is possibly a bit bent, and is convinced he's going to hell, and trying to make up for it, while DC Sefton is trying his best to understand the Sight, live up to expectations of a gay, black man in the Met and live down his childhood issues.
Superficially, this book is similar to Ben Aaronovitch's 'Peter Grant' novels, but while those are easy to read and quite light, this is dark. The magic in Cornell's world is driven by sacrifice, which can only make for a fairly dark novel. I found that grimness a little much, if I'm honest. This is probably a 3.5 star book for me, but I'll round up because the metastory of what's going on with the Sight and how Quill and his team ended up Sighted is an intriguing one. The feel of the story was quite one-sided though, as there is lots of play from the powers of evil, but only our small team, stumbling about in the dark trying to put things right (although this does lead to quite a funny scene where they get a priest, a rabbi and an imam to try and bless several objects in the hope that it might prove effective against their opponents). It's the intriguing hint of back story towards the end regarding this that has piqued my interest.
I don't know if I'll read the sequel, but it does make me want to read Broken Homes (the latest Peter Grant novel) for something similar but (hopefully) with less pain and death.