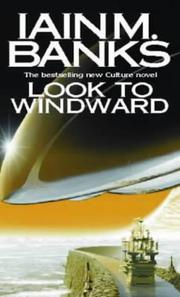 Look to Windward is amongst my favourite novels of Iain M. Banks. A sort-of sequel to Consider Phlebas, it tells a story set to the background of one of the (what the book calls) less glorious incidents of that war: the destruction of two stars into supernovae. The light of these two novae, travelling in real time, is only now, eight hundred years later, reaching Masaq' Orbital, whose Hub Mind was once that of a warship that played a vital role in that battle and the war. Alongside this, we have the story of a Chelgrian coming to Masaq' on a mission that is more than it seems, more insights into the Culture's meddling in the affairs of other races and a mind-bogglingly big airsphere, containing mind-bogglingly big sentient creatures.
I've been a fan of the Culture for some time (if I could move to any SFnal setting, it would be the Culture in a heartbeat), and this book started to give us more of an insight into how the Culture interacts with other civilisations, particularly lower-level "Involveds".
As usual, Banks weaves multiple story threads together, interleaving them and bringing them together for a stunning finale. The only thread that I find not entirely satisfying was that of the scholar, Uagen Zlepe and the events on the airsphere. But that may just be me.
The usual complement of outrageous ship names, brilliant tech and self-satisfied drones are all present and correct in what is a truly satisfying story. And the Hub avatar's speech to Ziller towards the end about what it is, what it's seen and what it's devoted its existence to makes me well up every time.