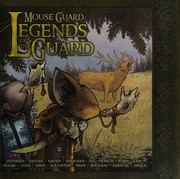 I came to Mouse Guard through the role-playing game, and this is my first exposure to the universe, other than the short game that we played (although the stories in this book are non-canonical). It's a lovely volume with stories and artwork provided by different artists, all within a framing story of a tale-telling competition in a tavern somewhere in the western end of the mouse territories.
The stories are all quite different, although many of them stick to a mythic quality. We have light-hearted, comic stories; myths of the origins of the Mouse Guard itself; even a retelling of Poe's The Raven, with a mouse protagonist. All enjoyable and short enough to not outstay their welcome.
What I did find slight odd was the epilogue. I'm not sure, but it seemed to be a drunken dream of one of the clients in the tavern of the framing story. I didn't find that it made much sense and it seemed like an odd way to close off the book.
For people who are unfamiliar with Mouse Guard this is a nice little introduction, and for those who are, I imagine it's a lovely set of stories within the universe.