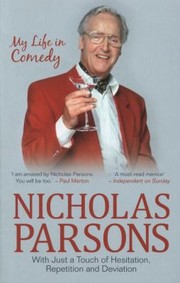 Nicholas Parsons has had a pretty varied career, which he discusses in this memoir, from his early work while working as an apprentice in an engineering company in Glasgow, right up to his recent shows at the Edinburgh Festival Fringe. It's a fun memoir, and Parsons rarely has a bad word to say about any of the many personalities that he's worked with over the years. The worst he usually says is that A wasn't quite as imaginative or fun as B.
I mostly know Parsons from his work on Just a Minute and there's a whole chapter devoted to that, how it came about and reminiscences about players, present and past. He's also done a lot of theatre and television work and is at pains to stress the degree of variety in his career, presumably to people who only know him from Just a Minute or Sale of the Century.
An enjoyably light read, that makes me curious to try and catch his Edinburgh Fringe show, but not one if you're looking for salacious showbiz gossip.