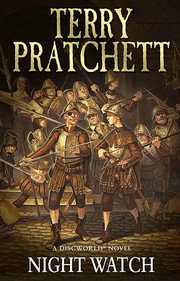 I bought this book when it came out in 2003*, as I did with all new Discworld books at the time, read it once, and for whatever reason, it never quite gelled with me, so it's been sitting on the shelf and has never been reread. But I know lots of people for whom Night Watch is their favourite Discworld novel, so eventually I thought I should give it another go. And I'm quite glad that I did, because it's a very good book. There's a lot of depth to it, with complex discussion of justice, revolution, complicity and much more.
But (you knew there was going to be a 'but'), for me, the best Discworld novels marry complex themes with a light touch and lots of humour. While there are lines here that made me smile, there were none that made me laugh. And, to be fair, even Pratchett would struggle to wring humour out of torture and police brutality. So while I enjoyed this book a lot (and will probably reread it again), I still pined a bit for Men at Arms.
Here, Vimes is pulled out of his comfortable life, shoved back in time and left with nothing. He's got to capture a dangerous criminal who came back with him, teach his younger self how to become a copper and worry about a revolution, all without breaking history. We're introduced to an older, more dangerous Ankh-Morpork, one that hasn't yet been tamed and strengthened by Lord Vetinari, where a paranoid man sits on the Patrician's chair, seeing plots wherever he looks. And has his special Watch squad, the Unmentionables, out "dealing" with them, while the rest of the Watch looks the other way, and tries not to think about the special cells under the watch house.
So, a good book, a very good book. Lots to think about, and, despite everything, a lightness of touch as well. I can see why so many people love it – it's got a good plot, complex characterisation (for Vimes, at least) and interesting themes. But for me, it's a little too dark and is a little short on the humour that I feel characterises the cream of the Discworld.
* Yes, I'm one of those cheapos who waits for the paperback**
** That reminds me, another (lesser) complaint is that there's far too few footnotes in this book