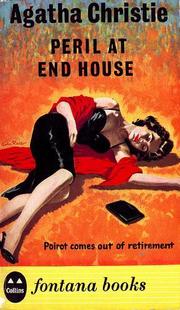 A retired Hercule Poirot is on holiday with his faithful friend Captain Hastings when he makes the acquaintance of a young lady whose accidents around the town seem to be more than just accidents.
It seems to me that Christie was having some fun at the expense of M. Poirot in this novel. She pokes sly fun at his vanity and arrogance, but with a fondness that I found quite endearing. Despite his high opinion of himself, he's often confused and stumped, and more than once is set on the right track by his faithful Hastings.
It was an interesting choice at the end to have Poirot guess that Nick intends to kill herself but to make no move to stop it. He plays fast and loose like this in other books too and it's a reminder that he's definitely not the police but a private individual with his own moral code. I sort of hope that the young Mr Vyse who leaves in a hurry at the end is off to go and stop her.
I always gamely try to figure out whodunnit and I rarely get it. This time was no exception. Right up to the end, I had no clue, although once it's revealed, the clues were all there. There's a lot of clever misdirection going on that totally threw me.