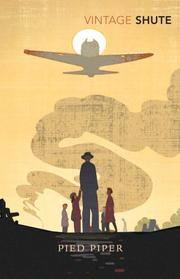 I probably wouldn't have found this book on my own, but a friend recommended it to me and it sounded delightful: an old man goes on a fishing holiday to France in the middle of the Second World War. While he's there, France is invaded by the Nazis, and he has to make his way home, except that a British couple also out there ask if he'll take their children back to Britain as they can't leave. He agrees, and spends the book acquiring more children to bring safely to Britain.
This is a charming and sweet book. Our protagonist, Mr Howard, shows boundless patience towards his charges and a determination to get them out of danger and to safety, whether in England, or to send them to his married daughter in America.
Howard's decision to go to France on holiday perhaps shows poor judgement, but there are mitigating factors, revealed later in the book. But it also perhaps shows how little the war had impacted gentlemen of a certain age and class at this point, that he felt that a fishing holiday was safe. Although I imagine nobody expected France to fall. Certainly not a quickly and completely as she did. The book is also contemporary to events: it was written in 1942, only two years after the fall of France, when the book is set. At this point, the outcome of the war is far from certain, and to write such a positive book in the midst of it is quite the achievement.
Spoiler
I really loved the relationship that built up between Howard and Nicole, the French girl whose father he knew, and who, it turns out was the lover of his dead son, John. This is something that surprised me in a book written at this time – that such a relationship, with heavy implications that it was a physical one – outwith marriage was not only written about, but in a positive, non-judgemental way. Howard even accepts and describes Nicole as his daughter-in-law, despite the fact that John died before they could marry.
An enjoyable, slow-paced book, albeit with added danger towards the end. But even Nazis want to see their children kept safe.