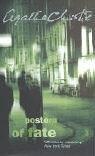 Having moved into a new house in a country village to enjoy their retirement, Tuppence is sorting through some bric-a-brac they inherited with the house. In a book she finds underlined letters that spell out a sentence to the effect that Mary Jordan was murdered. Intrigued and unable to let it go, she ropes her husband into one final adventure.
Although I've enjoyed the other 'Tommy and Tuppence' novels I've read, I really didn't like this one at all. It felt turgid, plodding and I still really don't particularly know what it was about. Something about Evil Forces that recur from generation to generation and a warning about fascism I think. Maybe this was Christie trying to get to grips with the times (the book was written in the early 1970s) but it was an odd mix of the modern(ish) and old-fashioned that failed to come off for me.
Maybe Tommy and Tuppence should have been left to enjoy their retirement without being called back to active service for one final (poor) job.