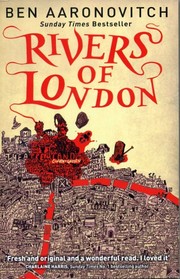 A few people have raved about this book for a while, enough of them being people whose taste I trust for me pick it up, and I'm certainly glad that I did. Peter Grant is a constable in the Met just coming to the end of his probation and finds himself questioning a dead man who has witnessed a murder. This leads to him becoming apprenticed to a wizard while still having to solve the murder as well as sort out a territorial dispute between gods along the Thames.
The story is pacey and moves along quickly, introducing a fairly large cast of characters, albeit one that never grows unmanageable. The protagonist is likeable and of a scientific bent of mind, spending time trying to figure out how the magic of his world interacts with modern technology and the why of it, as well as the how.
The book also brings London itself to centre stage. I'm not a huge fan of the city itself, finding it large, unfriendly and sprawling, but the descriptions in the book are loving and finely crafted, bringing the city to life.
I already have the second volume in the series, but I'm going to try and resist the urge to read it immediately, to make the books last longer, and also so as to not get fed up of them by reading them too quickly. As it is, I think that this is a book that deserves a re-read, as it had me turning pages to find out what happened next before I fully digested what was in front of me.