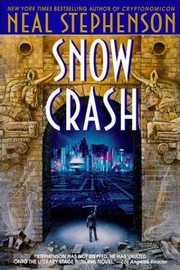 Hiro Protagonist, last of the freelance hackers and self-styled greatest sword fighter in the world, helped to create the Metaverse, a virtual reality that is ubiquitous in Stephenson's world, and now he's facing something that's never been seen in the Metaverse before: a virtual drug that scrambles the brains of the user back in Reality. He teams up with teenage Kourier Y.T. and along the way discovers a conspiracy that goes back to ancient times.
This was an odd book. I'm still not entirely sure if I liked it or not. It had a fabulous opening chapter with Hiro getting 'sacked' from his pizza delivery job but overall it felt very disjointed. The characters were interesting and often fun, but exposition was delivered with a trowel, often in seemingly inappropriate points. Also, the ultra-capitalistic world that Hiro and Y.T. live in bugged me, although I'm not sure why; it was well-realised and sort-of believable but it still oddly stopped me from suspending my disbelief in a way that the opposite, such as Iain Banks' Culture, wouldn't.
I think this probably needs to be re-read to get the most out of it.