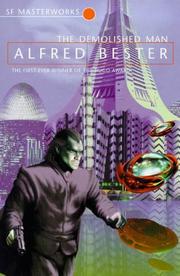 Millionaire industrialist Ben Reich sets out to commit murder, in a world guarded by the telepaths of the Esper Guild. Can he get away with it and avoid the terrible penalty of Demolition?
This was an amazing book. The characters are well drawn, as is the thumbnail sketch of the society of this future world. The Esper Guild is clearly a prototype for Babylon 5's PsiCorp (something that JMS acknowledged when he named everyone's favourite Psi Cop), although it is less conniving and more working for the good of humanity, with a strict code of ethics.
Ben Reich is a fascinating character, well built up in layers and feels very human, but always running from the Man With No Face. You almost want him to get away with it… although you also feel for his nemesis, the telepathic police prefect Lincoln Powell, whose warm humour and intelligence make him a very likeable character.
The story is strong, the writing is excellent and it's a page turner in the best sense. Highly recommended.