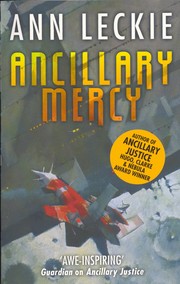 Picking up pretty much directly from where Ancilliary Sword left off, the conclusion to Breq's trilogy again changes the direction of the series a bit, with things that have been rumbling a little in the background coming more to the fore. Breq is now publicly known as the last remaining piece of Justice of Toren and she must move quickly to protect Athoek system from the inevitable attack by Anaander Mianaai.
There's a lot to love in this book and I pretty much want to just pick up the first book again and read the whole trilogy in one go, although I think I'm going to resist doing that until I make more of a dent in my to-read pile.
I think this book brings Breq's involvement in the wider story of the Radch to an end. There's lots more that she could do, of course, but I suspect that she'll be quite tied up in the aftermath of what happened in Atheok, and its fallout, to take any further part in wider events. And I can't imagine that there won't be further events. The story of the Radch and its ruler at war with herself is rich pickings for further storytelling and I look forward to reading it.
As for this one, it was a satisfying conclusion to the trilogy. Not just Breq, but those around her got decent character development and all got a chance to do something cool.