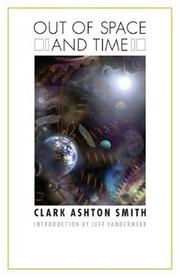 I was vaguely aware of Clark Ashton Smith as a collaborator of H. P. Lovecraft but little beyond that, so I thought this collection of short stories might serve to provide a flavour of his work. It did, but not in the way that I'd hoped. Although I enjoyed the first story in the collection, The End of the Story, I could probably have just read that and then stopped. The prose is so purple it heads towards infra-black and the tone is rarely anything other than portentous and pompous, to a degree that I found quite infuriating (but which did mean that the rare flashes of humour were all the more unexpected and welcome).
The work, to an amateur eye, like mine, reads like Lovecraft (on a bad day) but feels quite heavy and kludgy. I did finish the collection and, for what it's worth, my favourite story of the collection, The Monster of the Prophecy is quite near the end, so I'm (mostly) glad that I got that far. This story concerns a human encounter with an alien and contains one of the aforementioned rare flashes of humour, that made it stand out for me.
On the whole though, whilst tolerable in small doses, I struggled with this one and I won't be looking out any more by Smith.