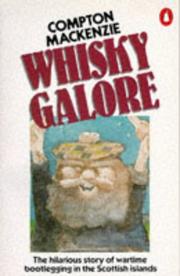 It took a while but I really warmed to this story of the Western Isles and how the locals deal with officious mainlanders. The whole whisky thing is almost an aside. There are several threads to the plot: the marriages of Sergeant Odd and George Campbell; the attempts of Captain Waggett to instil discipline into his Home Guard troops; and, of course, the sinking of the S. S. Cabinet Minister carrying 50,000 cases of whisky.
It took a while to settle into the flow of the book. I wasn't really sure where it was coming from, but once I let it go at its own pace, the gentle pace of island life, if you will, I began to thoroughly enjoy it. I started off being indignantly angry with the officious Captain Waggett and the other officials trying to meddle while insisting that there's a war on, but I soon realised what fun that Mackenzie was having at their expense. I enjoyed the subtle jibes at that sort of thinking.
The book is very easy to read (although it was easier after I discovered, about half way through, that there was a Gaelic glossary at the end!) and left me with a smile on my face at the end. Not to mention, a desire to go and visit some of the Western Isles.
It's different from the film and doesn't have the focus that the film does on the whisky plot, but then an 80-minute film has to be narrower in scope than a 300-page book. Take it for what it is without comparing too much to the film and there's an awful lot to enjoy from this book.