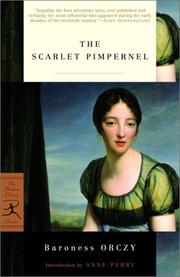 In France the revolution is well under way and Madame Guillotine's thirst is great for the blood of aristocrats, whether they be men, women or children. And yet, amidst all this bloodshed, some aristos are escaping from under the nose of the guards. Rumour has it that a band of bold and daring Englishmen, led by the mysterious Scarlet Pimpernel, are helping those condemned to flee to England. The villainous Chauvelin vows to track down the Scarlet Pimpernel and introduce him to Madame Guillotine himself.
This is a rip-roaring adventure story without any pretensions to social commentary or historical analysis. The story is mostly told through the eyes of Lady Marguerite Blakeney, a clever French former actress now married to one of the richest (and apparently stupidest) men in England. Despite her initial shallowness and contempt for her husband, we quickly warm to this woman and allow her to take us with her on her journey of self-discovery and adventure as she realises the truth about her husband and the danger that she has inadvertently sent him into.
A very entertaining book and, having read an abridged version when I was a child, I'm glad I have been able to read the full thing.