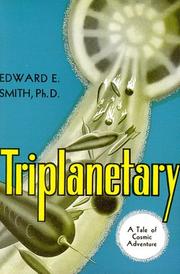 I picked this up because I saw it on Project Gutenberg for free, and I needed something to pad out my e-reader for a holiday. It's been about twenty years since I last read any Doc Smith, and, good grief, I should have left it that way. I was only just out of my teens when I read the Skylark series and I quite enjoyed that at the time. But since then I've developed a taste for things like plot, character development and moral consideration.
The writing here is fast-paced and breathless in its descriptions, edging on purple – with everything being "indescribable", and "unbelievable". There are lots of rays as well, for everything except, well, light. Relativity would be quite new at this point, but still fairly well known, but there's no mention of the speed of light or any indication that there's a problem in travelling between star systems (which happens at, of course, "indescribable speed…").
The book has an odd structure, with the first three short sections describing the fall of Atlantis, Rome and our civilisation, according to the plan of the powerful Arisians, as they try to create a race that can face the evil Eddorians in a battle across time and space. The main body of the book is a space opera set in a future civilisation when the inner planets of the solar system are united under a single "Triplanetary" government. It's full of the sort of lantern-jawed super super-scientists that Heinlein would go on to make famous. Surprisingly, there is a female character, and although she's mostly there to provide motivation to one of the aforementioned lantern-jawed scientist secret service men, she does actually get to fight at one point.
The story was pretty slight, with lots of cycles of fighting, being captured, escaping, rinse and repeat, and there were a few casual city-wide slaughters that were casually swept under the rug at the end. I might have enjoyed this more as a teenager, but I think I'll skip the rest of the books and just look up the plot summary on Wikipedia.