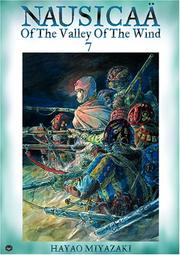 Nausicaä and the God Warrior that she accidentally awoke must go on a quest to seal the Crypt that preserves the technologies that kings and emperors have used over the years for evil, but it seems that even now, her way isn't easy.
And so Nausicaä's story finally comes to a close, with a message that is very Miyazaki-ian in nature, and somewhat reminiscent of Laputa. The warning in the tale is reminding us where arrogance can lead and to avoid thinking that we have all the answers and can 'fix' the world around us. The plot moves quickly and Nausicaä never stops being a sympathetic character you can't help warming to, and you feel for her when those around her are in pain.
It's a well-told (and well-drawn) story with a satisfying conclusion. And the series is inexpensive enough to pick up reasonably quickly and is probably worth buying since I think it certainly has re-read potential.