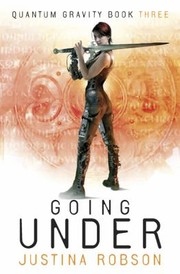 The third in the Quantum Gravity series, this one starts nuclear-powered cyborg Lila Black married to an elf and a demon and enjoying a honeymoon in Daemonia. This starts to go sour as more and more demons try to duel Lila for her power and prestige in having married a scion of one of the most powerful families in the land. Although with her AI-assisted reflexes and battle-technology she is easily able to defeat these challengers, the senseless waste of it is getting to her, so it's a relief when she is recalled to her own world for a new mission. A type of faerie called Mothkin are infesting Otopia (what Earth became after the Quantum Bomb broke the barriers between realities) and the Agency is sending her to Faery to try and find a solution.
There's a lot to this book but I found the first half somewhat hard going, mainly due to Lila. In previous books, Lila has been a sassy, fun and kick-ass character, in this one she seems to mope a lot. The last third of the book, when she and her gang eventually get to Faery, the pace picks up. This isn't the Faery of fairy tales or even of courts and intrigues, but a deeper, scarier place which Robson describes wonderfully.
By the end, Lila has been stripped of almost everything she had, her friends, her lovers, her place in the world, even her sense of self, as her magically charged machine components slowly start encroaching on her organic parts.
The final twist is a bit harsh, considering everything else that's gone on and I'm not entirely sure if it's a good decision on Robson's part, but that won't stop me from getting the fourth book anyway.