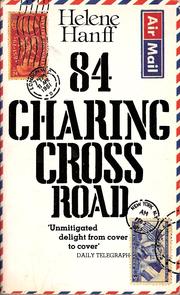 This volume contains both the original 84 Charing Cross Road and The Duchess of Bloomsbury Street, another short book that Hanff wrote about a visit that she finally was able to make to London some years later, alas after Marks and Co had closed down. The original book is probably the better of the two, giving a wonderful correspondence not only between Hanff and Marks and Co's chief buyer, Frank Doel, but with others in the shop and Frank's family that she gets to know. It's amazing just how quickly the correspondence moves from formal to friendly, at least on the American side. Frank is more reserved and for longer, but the friendship and genuine affection comes across in droves.
You keep wanting Helene to make it over to London but there's always an emergency of some kind that requires funds and so it's not until we get to The Duchess of Bloomsbury Street that she finally makes it. By this time much has changed. Marks and Co is no more, and the first book is already out and it's the British edition of that that finally allows Helene to make the trip, to publicise it. This one is in the form of the diary of her trip, as she relies on the kindness of strangers, and friends known only from paper over the previous twenty years to get by. It's enjoyable, but although we get characters like the Colonel and "PB", as well as finally getting to meet Nora Doel, it doesn't connect as much as 84 Charing Cross Road. There's less humour and more travel writing, and Hanff is entranced by the sort of institutions that I politely loathe (such as Eton College), which is a bit of a reminder of the distance in both time and space that she's writing.
The whole thing was still a delight to read, although I'm a bit disappointed that with Marks and Co a distant memory, I'll never get a chance to step inside and browse the dusty shelves.