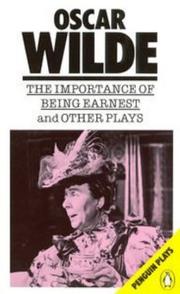 Containing five of Wilde's most famous plays, this collection is a great introduction to his work. While I was somewhat familiar with The Importance of Being Ernest I've not seen or read any other of Wilde's plays until now.
I quite enjoyed both Lady Windermere's Fan and A Woman of No Importance but was left a little cold by An Ideal Husband which, while having some flashes of humour, felt much more (melo)dramatic than the others. Reading these three plays in fairly quick succession revealed some common themes between them, specifically the idolisation of men by their wives and how they go to pieces when said husbands are revealed to be less than perfect.
Ernest is, I think, by far the best play in the book with laugh out loud moments, ever-present wit and humour and just the right amount of farce to be fun. The collection was rounded off by the short one-act play Salomé, about how Herod's step-daughter tricks him into killing John the Baptist (although I had to look up on Wikipedia who "Jokanaan" was. This was very dramatic without the humour of Wilde's other work, and much more poetic with some stunning imagery. I think coming to it immediately after the others I was expecting something else and was somewhat disconcerted with what I got, but once I got over that, I enjoyed the language and images of the play.
The major impression that I'm left with at the end of this collection is how big the difference between reading and watching a play really is. Although An Ideal Husband contained some stage notes about characters, the text is still fairly nondescript. I'd love to see some of these plays actually performed and see what sort of interpretations are made of them.
I'm certainly glad to have read these now and will look out for productions of them in future.